Latest Gay News
By Jenn Haight

We no longer speak of the world as having two binary genders, male and female. Now individuals are finding ways both more full and succinct to define the nuances of their being. The question arises: What are the exact definitions of these new words? How big is the gender spectrum? How is cisgender different from gender fluid? What do you mean there is more than one meaning to the word transgender? How can I be a better ally?

Houston residents Mel Reiff Hill and Jay Mays realized there were no easily accessible, well-researched and clear answers to these questions. There wasn't a simple book on gender definitions and differences. Perhaps this was because defining gender is a complicated issue and can be controversial if it is not done correctly, carefully and respectfully. They began conducting interviews and compiling research to study how and why people define themselves the way that they do. In March 2014, The Gender Book was published as a result of their work, and it has helped serve as a tool for many people to navigate and understand these changes.

The Gender Book is narrated by Boston. Boston begins by having readers consider what they think they know about gender and asks them to throw those thoughts aside. Gender isn't biology, and it isn't psychology. It isn't obvious or static. The goal is for readers to separate what society has defined in gender roles, pink and blue, dolls and trucks, haircuts and clothes, and to find where they fall on the gender spectrum.

Hailing from Montrose Houston, an area with diverse gender identities, the creators knew they wanted to include any and all definitions they could. The book asks readers to consider: What is gender? What is the difference between gender and sex? How has the idea of gender changed through history? What identities fall under the transgender umbrella? Although the book includes thoroughly researched identity definitions, these definitions still may vary by individual. "There is space for all readers to redefine terms and identify themselves as they see fit."

The 90-page book is visually appealing - it's a full-color graphic novel with handwritten text, which gives it the accessible feel of a children's book and makes it less intimidating for people who want information but perhaps don't have the time to invest in a long, text-heavy undertaking. The text is most appropriate for high school age and up but can be utilized to educate any age group. An e-book is also available on the website, and it is offered at a pay-as-you-can rate. Offering the book at a variable price point opens wider access to the book and makes certain that people who may not have money to buy it can still obtain the information.

In order to bring the book to life, its creators carried out a successful Kickstarter campaign. They also received aid from the Houston Arts Alliance and The Idea Fund. The book has received almost entirely positive feedback, including a story on Houston's KPFT radio program. BuzzFeed wrote, "'The Gender Book' Everyone Should Read. Clear enough for your mom to understand, real enough to hit home on every page." The Huffington Post Review said, "The book...may be one of the most comprehensive and user-friendly pieces of literature on the topic of gender in recent history."

Besides the book itself, the companion website offers a bevy of useful information and resources (including crowdfunding advice) for educators, students, and for people who are interested in coming out but aren't sure how to go about it.

By Jenn Haight

Houston has a rich and deep theater history. Part of what makes the theater in Houston a successful and ever-evolving entity is the multitude of theatrical education opportunities. Theater training is available as young as age four at Theatre Under the Stars, a nationally-known children's theater program. There are also myriad theater houses providing classes and stage experience such as Wildfish Theater and HITS Theater. These early training opportunities are often coupled with some of the best high school theater programs in the country, producing professional-level talent.

Each spring, a huge, televised event celebrating the best in high school theater is held at the Hobby Center - The Tommy Tune Awards. Besides the trophy and prestige of the win, students can earn scholarships and the opportunity to compete nationally. Four male actors who attended high school in Houston and have gone on to acting success are Tommy Tune, Jim Parsons, Justin Simien and Matt Bomer.

The aforementioned Tommy Tune may be the most infamous of Houston performers. Tune is from Texas and returns each year to celebrate the many talented high schoolers in his home state. Although he is perhaps best known as a Broadway performer, for which he has won 10 Tony Awards over the years, he has starred in numerous films as well, including Hello Dolly. He's also been on several television shows, including Arrested Development. Tune has been openly gay throughout his career and has written a memoir about his experience. Besides his variety of talents in choreography, directing and performing, Tune is also known for his exceptional height at 6 feet 6 inches tall.

Another tall Texan, Jim Parsons, 6 feet 2 inches, began his career in Houston. He grew up in the suburb of Spring and was in several productions at his high school, Klein Oak. Parsons had numerous parts in off-Broadway shows, commercials and bit parts in films and television shows before he made his breakthrough with the role of Sheldon Cooper on the show The Big Bang Theory. He won four Emmy Awards and a Golden Globe Award playing that role. He has continued to work in film, including voice work in the film Home. Parsons came out via an article in The New York Times in 2012. At the time, he admitted that he had been in a 10-year relationship with his partner. He had never been closeted, but his sexual orientation had never come up. Once the information was public, Parsons is quoted as saying he was relieved.

Film director, producer, screenwriter, editor, actor and author Justin Simien received a lot of attention for his first feature film, Dear White People. He began work on the piece in 2006 and released it in 2014 with the help of crowdfunding. Simien began his career in Houston and has lived as an openly gay man throughout his career. Simien has won several film festival awards for Dear White People and has been compared to Spike Lee.

Although he was born in Missouri, actor Matt Bomer, attended Klein High School in Spring, Texas, a suburb of Houston. Matt participated in the theater program at Klein High and performed at Houston's prestigious Alley Theater. After graduating from Carnegie Mellon University, Bomer performed on Broadway and had roles in the soap operas All My Children and Guiding Light. In 2009, he became the lead actor in the television show Blue Collar. Bomer's work has also been seen in several films, including Flightplan and Texas Chainsaw Massacre: The Beginning. Although Bomer had already been with his partner for years, the first time that he publicly acknowledged that he is gay was in 2012 when he thanked his partner while accepting an award. He can most recently be seen on the television show American Horror Story: Hotel.

With the combination of Texas pride and work ethic plus top-notch training and opportunity, it's no wonder many young men who began their careers in Houston have gone on to have successful acting careers on Broadway and in film and television.
Andrew Lloyd Webber's timeless classic Phantom of the Opera has a whole new look in the production by producer Cameron Makintosh and director Laurence Connor currently touring the country. Phantom hits Houston this week and it's more over-the-top than ever before, incorporating new cutting-edge technology and lighting design as well as new direction that makes the play darker and more tense. Of course the classic Webber score remains with classic songs like "All I ask of You" and "Masquerade."

Broadway veteran actor Edward Staudenmayer, who has performed in shows such as Beauty and the Beast, The Scarlet Pimpernel and Monty Python's Spamalot, has taken on the role of Monsieur Andre in this Phantom cast. Staudenmayer talked to us about what it's like to work on one of the most successful musicals ever as well as his Houston musical street cred.
My Gay Houston: How many times have you performed this role in Phantom?
Edward Staudenmeyer: We just hit the 800 mark on number of performances. And I've only had a few days off since I started with the tour two years ago, so probably somewhere around there. Its' a great gig and a fun production to be part of. I love the other actors and the interaction and it's great to be in a big stinking hit, I gotta tell you.
MGH: Have you performed in Houston before?
ES: Yes, I actually did Wonderland, the Alice in Wonderland musical that was developed at Alley Theatre under Greg Boyd. I was the White Rabbit and of course that show moved on to run on Broadway. I really enjoyed my time in Houston.
MGH: Monsieur Andre is a great supporting character in the original Phantom, but maybe a little one-dimensional. How has he changed in this adaptation?
ES: In this production, characters like Andre and Monsieur Firmin are much more fleshed out. This version is very gritty and the characters really get in each others' faces. It's intense, there's a lot of arguing and back and forth. We learn that Andre is more of an aristocrat, though one with not much money. He teams up with Firmin who is from a lower class but has more money. They are at each others' throats a lot and (actor) David Benoit and I have a lot of fun doing it.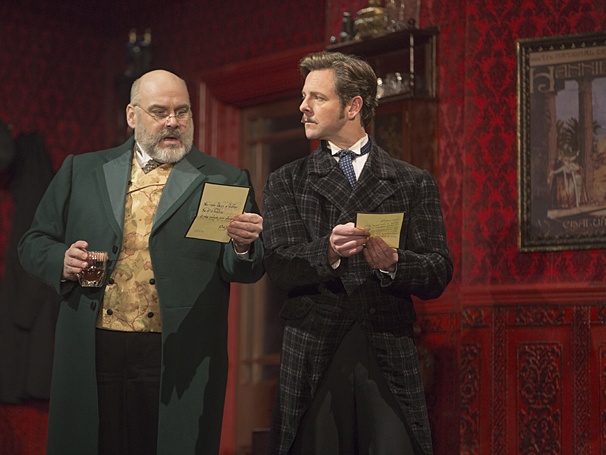 Staudenmayer (right) plays opposite David Benoit in Phantom

MGH: How else is this new rendition from Mackintosh and Connor different from the original?
ES: It's darker. It's bloodier. The staging is able to make use of technology that simply wasn't available when Phantom debuted 30 years ago. In many ways, the original was staged sort of like a silent movie, highly stylized. This is much heavier, much deeper scenes. I think you get more into the characters than you could before.
MGH: Despite the changes, some things you just don't mess with when it comes to the longest running show on Broadway.
ES: Exactly. I think what resonates most with people about this show is first and foremost the music. When people hear that music, it's just infectious and it draws up so many memories for a lot of people. You feel (Andrew) Lloyd Webber's score. Also it's a grandiose work and people love that, they love the scale of it. It's operatic in many ways of course, and so it's opera for musical theater folks. I can't tell you how many people come up to me and say "this was the first musical I saw." People have a lot of emotions around Phantom.

MGH: What's the one role you haven't played yet that you really want to do in your career?
ES: I think every baritone says Sweeney Todd. It's a great piece and I would love to play that role. I'd also love to play Harold Hill in The Music Man.
MGH: You've long been involved in Forbidden Broadway, touring the country with that group. Talk about that a bit.
ES: I've done Forbidden Broadway on and off for 20 years. I started as an understudy in LA and then when I moved to New York they offered me a role. They are my bread and butter. You know it's really like Saturday Night Live for Broadway, spoofing current or classic shows and the big stars. It's so much fun. I've been doing Phantom for a while now but I miss Forbidden Broadway, I haven't done it in four or five years. So it would be great to a weekend off and do it sometime.

Phantom of the Opera runs through Nov. 29 at the Hobby Center. Click here for tickets and info.
By Jenn Haight

Halloween shops pop up in empty strip malls and abandoned storefronts for a couple of months each year offering cheaply made run-of-the-mill costumes and decorations. But what're available at most of these stores are the same things you'd find in any drugstore or discount supercenters. So, if you're seeking something outside of the norm in theme and quality, a trip to one of the long-established, family-run costume shops in Houston is a must. Open year round, these facilities offer options for fabulous costuming for any occasion.

Frankel's Costume Co.
Founded in 1950 as Monty's Magic Mart, Monty Frankel slowly morphed his business into a costume shop. It soon outgrew its small footprint and expanded to its current 40,000-square-foot warehouse on the east side of Houston. From Mardi Gras to Santa Claus to vixen witches, Frankel's can set you up with any style of costume. There are options to purchase completely prepared costumes or the individual pieces to put a costume together. Frankel's carries makeup and accessories ranging from the single-use variety to professional-quality makeup for stage, special effects and video production. Remaining faithful to the passion that began the company, Frankel's also continues to carry supplies for magic and puppetry.

Arne's Warehouse
Arne's is known for its massive selection of party supplies almost as much as it is for its fabulous array of costumes. Housed in a massive warehouse, Arne's has aisles of ribbon, floral-making supplies, paper plates and decorations for parties. They also have a second warehouse next door with a huge assortment of pet and discounted party supplies. Arne's has a wall plastered with images of the costumes available. Customers provide employees with the number of the item they'd like to see, and then retrieve it for them. Besides the packaged options, there are also aisles of browsable costume accessories including gloves, canes, false teeth, hats and boas.

Southern Importers
A member of the National Costume Association, Southern Importers has been selling costumes and all manner of other party accessories since 1915. One thing that makes this store different from others in the Houston area is that they not only carry completed costumes but they also carry the raw materials needed make homemade costumes too. They offer a large assortment of fabrics, feathers, glitter and trim. Besides traditional costume, dance and celebration supplies, Southern Importers also carries the goods for organizations to make parade floats. Other unique products include lighting supplies, award and banquet items and mannequins.

Erotic Cabaret
Looking for something a bit more on the risque side? Since the early 1980s, Erotic Cabaret Boutique has been serving the "sexier needs" of Houston from its storefront in Montrose. Well-known for its assortment of lingerie and fetish clothing, the store also carries form-fitting and often tantalizing costumes year-round, but especially during Halloween and Carnival season. There is also a large selection of masks and wigs for those looking to complete their ensemble.

Danny's Trix & Kix
A short drive outside of Houston brings you to a store with one of the largest arrays of costume selections in the industry. Long a spot for actors and performers to find specialized makeup, Danny's sells a huge assortment of appliances to accentuate any look. The supply includes fake teeth, noses, ears, fingers, hats, shoes, bags and more. There are rooms chock full of highly detailed, extravagantly elaborate costumes available for rent. Commonly utilized for theater and opera companies, these costumes can be rented for Halloween, theme parties, festivals and anytime you want a stand out costume.

Performing Arts Supply Company
For exquisite and high-quality costumes, nothing can beat a rental company specifically designed to cater to the needs of theater companies. From multilayered, fur-trimmed Elizabethan costumes to Renaissance regalia crafted for a peasant, the Performing Arts Supply Company offers individual and group costumes. Sectioned off by theme and topic, you can browse online or visit in-person to peruse the large selection of theater makeup, costume jewelry, theatrical books and scenic supplies. Where else could you find costumes for any character in the Gilbert and Sullivan catalog?

Whether you're getting your spook on by visiting haunted Houston locations, dressing up for a costume ball, heading out to the Renaissance Festival, celebrating Mardi Gras, or looking for an incredible performance costume, these Houston stores are sure to help you transform your look.
Bridget Everett knows how to work a crowd. The baudy singer/commedienne has earned a strong fan base with her over-the-edge cabaret performances, particularly in New York City where she's a regular on the comedy circuit. Everett is a combo threat, mixing her beautiful singing voice, risque storytelling and downright jaw-dropping comedy for a performance few will forget. Last summer, her first television comedy special, Gynecological Wonder, aired on Comedy Central and she co-starred in Amy Schumer's film Trainwreck.

Everett brings her unique show to Houston in November as the debut performance of Lott Entertainment Presents, a newly formed venture aimed drawing outside-the-box acts to the city. We chatted with her about using her body as a show prop, her friendship with Schumer and more.

My Gay Houston: Bridget you're already a very well-known entertainer in NYC. But perhaps not as recognized elsewhere around the country. Do you think that's changing after your first Comedy Central special?
Bridget Everett: I think the special was a nice bump. And I've closed down each season of Inside Amy Schumer with a song. I get a lot of great feedback from both of those.

You use a lot of props in your shows, perhaps most notably your breasts. So break that down for us, is it empowering for a woman to use her own body for her performances or do you do it because it's just plain funny?
I do it because it's fun! I love to get to know the audience. I always consider a show like a first date. And what happens on a great first date? You get a little drunk, you laugh a lot and hopefully, you get laid.

That brown bag of chardonnay, how long have you been using that in your act?
I'd say four years. My friend, Champagne Jerry, gave me one for Christmas. It's actually insulated! I have a bunch now. Sometimes i even use it at home.

At 6-foot, you're a rather tall lady. Do you think that intimidates some people in show biz? Are you sometimes able to use your height in your favor?
I think it works to my advantage in a live show. My character on stage is larger than life and is actually physically larger than most people. It's a lot of tit but who doesn't like a little titty?

You had a role in Amy Schumer's runaway success Trainwreck last summer. What was it like working with someone like Schumer and have you guys maintained a relationship?
Amy is one of my closest friends. She is super funny, very generous and a loyal, loving friend. We love to get together and drink chardonnay and cuddle with my dog, poppy.

You sing, you do comedy and based on what I've seen you're not a bad dancer. So what do you consider yourself first and foremost?
I consider myself a singer who happens to be funny. I am not a great dancer but I have a lot of heart and am willing to try just about anything.

You're known for what we'll call "audience engagement", in particular sometimes sitting on the faces of your fans during a show. Sooo, how did that become part of the act?
The audiences I've been performing for in NYC for the last decade have encouraged me and allowed me to go REALLY far. I find it exciting, they don't look away and we all end up leaving happy. It really is something I can't stop when i'm on stage. I love the challenge myself and the audience but i want everyone to leave feeling like they just got a great hug.

You have a pretty strong gay and lesbian following. Why do you think that is?
Maybe because I don't seem to have a lot of boundaries on stage? Maybe it's the tits? Or maybe it's because i really don't give a f**k what anyone thinks of what I'm doing? I don't know why anyone responds to anything, but that's my best guess!

As you tour more, are you worried your style won't be as accepted in some places around the country? Or do your fans typically know what they're getting into?
If I'm play a comedy club for a weekend and someone shows up thinking they're going to see some guy in a hoodie telling d**k jokes, then my show might not be for them. But I am excited by the diversity of people coming to see me maybe having some idea what they're in for. But nobody really does unless they've seen it. And even then, it's different every time. That's how i can do it night after night and still get excited.

Have you performed in Houston before? Do you think this town is ready for Bridget Everett?
I just performed last weekend on the oddball tour. To be honest, houston was one of my favorite crowds. I'd never played there before and felt really welcome. I hope people make it out to my upcoming shows. I will be giving it 150%!

Bridget Everett performs Nov. 4-7 at the new MATCH performing arts space in Midtown. Tickets start at $50. Click here for details.
By Jenn Haight

With the 2016 presidential and regional elections already splashed across the news and media, many people are thinking about the issues that matter to them. The GLBT community of Houston has a ready-made outlet for ideas and empowerment with the Houston GLBT Political Caucus. Uniting under the slogan "Equality? Seek it. Discrimination? End it," the group hopes to open doors wide during the upcoming electoral season.


Founded in 1975, The Houston GLBT Political Caucus is dedicated to the advancement of gay, lesbian, bisexual and transgender equality. The Caucus works to elect candidates through fundraising and spreading public awareness. Working as a nonpartisan unit, the Caucus attempts to connect GLBT and GLBT-friendly voters to elect pro-equality candidates and to influence local, state and national elections.

Under the heading of GLBT issues, equality is paramount. By helping voters to sort through candidate's rhetoric and discourse, the caucus lets supporters know which candidates will work toward the implementation of pro-equality public policy. The group's PAC (political action committee) lobbies for the caucus and then produces a list of the candidates endorsed as representing the caucus' issues. Voters can then take the list with them to the polls and vote with confidence, knowing they are choosing candidates who promise to uphold the group's pro-equality policy.

In 1981, the caucus endorsed Kathy Whitmire, who became the first female mayor of Houston. Her support of GLBT issues drew a backlash from conservatives, but she remained the mayor for five consecutive two-year terms. Annise Parker became the first openly gay mayor of Houston in 2009. A team of volunteers from the caucus provided a consistent and dedicated grass roots campaign for her, which is believed to have greatly influenced many voters. Parker has received numerous awards and accolades during her ongoing time as mayor. Some highlights include Time magazine naming Mayor Parker one of the 100 most influential people in the world and the National Award for Local Arts Leadership.

Recently the caucus has announced its continued support of HERO (Houston Equal Rights Ordinance). HERO is an ordinance that prohibits discrimination in housing, employment and public accommodations. The ordinance protects 15 characteristics including race, ability, gender identity, pregnancy, military status and sexual orientation. It is now a requirement that all candidates endorsed by the caucus must promise to support HERO.

The group's activities reach beyond elections. They also engage in community outreach and education, often providing instruction and training on GLBT issues to various agencies and companies throughout the Houston area. The caucus also refers members of the community to services and resources they may otherwise have difficulty finding.

Part of the strength of the organization lays in the dedication of its many volunteers. They work as a team to spread the message of the group. Whether they are educating voters by traveling door to door, handing out voting guides at polling spots or calling on the telephone, time in the field is essential in fighting for GLBT equality.

Another service of the caucus connects them with law enforcement agencies as an advocate to improve the conditions in jails. They also call for fair treatment of GLBT individuals from law enforcement officers.

Politics and law aside, the caucus extends its influence to promote effective public, corporate and organizational policies across the region. The ultimate goal is to make Houston and the greater Houston area a safe, welcoming place for GLBT individuals to live and work.

General membership meetings are held monthly at the Montrose Center, and listings can be found on the Houston GLBT Political Caucus website, Facebook or Twitter page. A basic membership runs $40, but there are student and senior rates. You may still attend meetings as a nonpaying member, but you must be a member to vote and attend certain events.
By Tammy Shaklee, Founder, He's For Me

When gay singles conduct their personal interview with a certified matchmaker, they can be quite specific regarding the man they are seeking in a long-term relationship. I've experienced singles bringing in detailed multi-page lists, some prioritized, charted, and even diagramed out. Most have a list on their phone. Others have even presented color-coded 3x5 cards. Each time, I feel honored that they are revealing a part of their personal desires, an honest part of their heart and soul, in their ideal person for a relationship (not a hook up).

We also list with them the key qualities and key values important in a partner. Compatibility means they would choose that person, AND that they would choose them back. We talk personality types, emotional and spiritual components, and even energy level and drive; in addition to the physical attraction ideals of course. (Please, gentlemen, we know you.)

But after an extended period of describing what they want, I'll ask what they don't want (i.e. - deal breakers). And the answers that are listed here sometimes make me chuckle, just a bit. I've often heard, "Well, if they don't have a car, or a job, or if they're on drugs." Obviously! In our industry, we refer to it as the 3 C's. You want your future partner to have a casa, a car, and a career. Some call it the 4 'tions. You want your partner to have an education, a vocation, transportation, and habitation.

So in our office, we lay it all out. What one is holding out for, and what standards must be met in a person for a real relationship. One little tip, I correct people when they apologize for being "picky." I don't like words with negative connotations, so I compliment them for being "particular." Who doesn't want a partner who is particular in the standards for themselves, and those of a future partner? Particular usually means they take care of themselves, their responsibilities, and others.

Ideally you deserve your equal. In drive, success, fitness, giving and caring. And THAT leads to what we consider the big C. Compatibility. You bet there are online algorithms that can get you a little closer to someone with common interests. But the real test is the time you spend starting to get to know each other. And it usually takes a couple of dates. In fact, the anthropologists we follow says it takes up to four good dates to really start to know someone, and truly see if this person is in your future, or not. And it all starts with a first date, not just a chat, or a text, or photo swapping.

We simply invite you, singles, to open your mind when on a first date with a potential match, whether through us or from your online search. Be a great date, and open your heart to our 3 Cs. Compatibility, Curiosity, and Consideration. Give him a chance. And the rest will follow.

For more information on traditional introductions, courting, and dating for today's modern gay man, visit He's For Me, offline, personal matchmaking designed exclusively for select gay men seeking a long-term relationship - at www.H4M.com and like us on the H4Mmatchmaking Facebook Page for daily inspiration on finding love. #loveislove
By Jenn Haight

Houston offers no shortage of healthy, outdoor activities to enjoy. Running and biking, canoeing and paddle boarding, yoga and dance are all available, but sometimes the hardest step is the first one. It can be intimidating to become active on your own, and that's where joining a group can help. The Houston Outdoor Group (or HOG) has been organizing and planning activities for its members for the last 31 years.

Originally started as an exclusively outdoor group with camping, biking and canoeing outings, their calendar now has expanded to include a wide range of other social events. "We have trips to the theater, and we have trips to the Renaissance Festival, blueberry picking, ballet, Miller Outdoor Theater and Jones Hall," explains HOG president, Ron Drumm. This fall, they're also gathering to attend the Houston Greekfest together.

Over the years, the group has found one other common focus area by expanding to include one of life's primal needs and passions - food. Whether meeting for a potluck dinner, weekend brunch, dinner at a member's home or sampling the fares at a local restaurant, the group offers several food-based outings each month.

HOG is open to all but focuses on the gay and lesbian community. Part of the fun is that attendees tend to vary from event to event, leading to a different group almost every time. You only attend the things that interest you, and the planning is all done by the board. Members and guests simply need to RSVP and show up to the activities most likely to result in a good time for them.

Currently, HOG has 91 members ranging in age from 20-70. Drumm, who has served as president for two years now, is excited about the future of the organization and is hoping it will continue to grow. The membership consists of both couples and singles, and he's pleased with the overall diversity in people and get-togethers.

Although most of the activities with the group take place within the greater Houston area, some events extend well beyond the city limits. Drumm's introduction to the group involved one of those trips. "I was invited on a trip to Enchanted Rock State Natural Area...I was immediately hooked." This adventure led to him becoming a member of HOG.

Another group member, Howard Kanelakos, was also positively affected by his association with HOG. "Joining HOG was one of the best things that ever happened to me. It was a comfortable group of guys who were either comfortable with themselves or working on becoming comfortable with themselves."

Interested people are welcome to attend and join at any time throughout the year. Drumm stresses there are no required meetings and members are free to attend whatever activities they want. Membership is only $20 per year, and that's per household, not per person. Both low-price and low-pressure, Houston Outdoor Group may be exactly the group you need to get you moving.
When Steve Grand released his hit All American Boy in 2013, the song and the accompanying music video went viral. Not so much because of the country sound or Grand's movie star good looks. Certainly the theme of unrequited love wasn't new either. Rather it was the combination of classic Americana imagery and emotions told through the lens of a gay love story.

The song rocketed to the top of the charts and made Grand an overnight sensation among gay and straight fans alike. At a time when most artists cannot get their voices heard without a label or a serious manager,
singer-songwriter Grand self-produced and financed the piece and made a name for himself as a serious player in the music scene almost overnight.

Earlier this year, Grand released his album, also titled All American Boy, and it quickly climbed to the No. 3 spot on the Billboard Independent chart. Piano and guitar-driven tracks such as Say You Love Me and Whiskey Crime offer a timeless sound, one that's instantly familiar to fans of artists like Bruce Springsteen or Tom Petty.

The weekend of October 2, Grand will come to Houston to perform live as part of the Diana Foundation's Country Dinner Weekend. Recognized as the oldest continuously active gay organization in the United States, the Dianas were founded in 1953 with the mission of raising and distributing funds to organizations serving the gay community. Three days of events are planned, including the headline country dinner on October 3 at Neon Boots, where Grand will perform.

As he prepares for his trip to H-Town, we spoke with Grand by phone from his home near Chicago.

mygayhouston.com: People have called you an overnight sensation. But you've been working at this for a while. How do you take that?
Steve Grand: You know, I've been playing piano since I was six. At 13 I decided I wanted to write music. Before All American Boy, I was working on music, recording it in my basement. I didn't have a label or anything; I would do gigs at bars on the weekends. I think what people are referring to is that I definitely achieved a level of popularity very quickly with All American Boy, unlike others who don't get that kind of reception from a debut. But I was putting in the work for many years before that.

You've been asked a lot about being a gay country singer and how you're received in those circles. But you don't necessarily see yourself that way do you?
I was very surprised that people were calling me a country artist. I didn't see myself that way then and I still don't. I can see where they would get that from, because I do use a lot of the devices of country music in some of my work. But from the start, every interview I've done I've talked about not really seeing myself as a country artist. If my fans see me that way, that's fine. The label is not that important to me. All American Boy is certainly the most country sounding song I've done.

Let's talk about that song and the music video. By all accounts it went viral when you put it out there, and there's a reason for that.
Sure. The song, regardless of what genre you call it, still makes a very compelling message. The sonic elements are very traditional, plus you have the Americana visuals in the video-the campfire, country roads, the flag. To have that setting established that people are familiar with and then bring in a same-sex love story-that's what made it compelling.

You're a singer-songwriter. How do you think that sets you apart from other artists and do you see yourself more as a writer or a performer?
I see myself first and foremost as a writer, I write a lot of music. But I also think I'm a strong performer. I think I come across on stage far stronger, more confident. That's one of the reasons I love performing so much, I become an extension of myself that's better than my real self. It's only 1% of what I do, but during and after a show, you realize how lucky you are and it's so worth it.

As an artist, do you think it's easier now than it once was not to put yourself in one genre-a country artist or a pop artist for instance?
I don't know, I don't have a whole lot to compare it to! But maybe now with social media it is easier for artists to explain their choices. I've been saying it in every interview that I'm just putting out my sound. I'm just grateful that people want to interview me at all. You see a lot of stars who get annoyed by the silliest things. They're so lucky to get to do what they love. I try not to take that for granted.

There's really nothing like the connection that a singer songwriter can have with his audience. It's truly unique and unlike any other human connection. You're hearing words from the mouth of the person who wrote them, there's no middle man. These words came from a place inside me and I'm singing that directly to you. That's powerful.

Who influences you as an artist?
I was raised on the Beatles, Led Zeppelin, the Rolling Stones. It's interesting because my parents were old-fashioned and traditional and wouldn't let us listen to pop music, but they let us listen to the Stones. Those groups definitely contributed to my music education and my sound, so I appreciate that.

And who influences you as a gay man?
One of the longest standing influences for me is Ellen (DeGeneres). I realize I have a limited perspective but for me she was one of the first people who came out and yet was able to gain an appeal with Middle America. Not a lot of people had done that before. I give her the credit for changing the hearts and minds of millions of mothers and middle aged women, who weren't really exposed to gay people in their everyday lives before. Here's this incredibly charismatic, compassionate sweet woman connecting with them every day. And it becomes impossible to say she shouldn't have the same rights as me. She doesn't make being gay a shtick, but she is authentic. For me, I try to always be myself-not necessarily try to push who I am on anyone but also not soften or alter who I am either. What they see is what they get.

A lot of times the LGBT community likes to put people in boxes or say they have to speak for the community when they come out. How have you handled that?
I just remind people, that it's incredible that we're seeing this tremendous diversity of our community being represented more than ever-all religious backgrounds, all socioeconomic statuses, all different kinds of families from all around the world,. There's no one kind of gay person, we're not going to all agree on everything but that's a sign of progress.

You could have been an out artist without addressing your sexuality in your music or in the video. Why did you?
I do believe that we live in a time when people like us are accepted and therefore who we are should be able to be addressed in our art. I don't see why a straight person can't connect to my music just because of the pronouns I use in a song. Unrequited love is an experience that we all share in common. It may limit my audience, but if that's the case so be it.

Have you played in Houston before?
No, there's a funny story there. I was in Austin, and it was right after All American Boy came out. So I'm on stage and my head is spinning. I'm singing a song where I was able to incorporate the name of the city, which is a great way to connect with the audience and gain credibility. But I blurted out "hey Houston." I must have said it several times, so finally my manager ran out on stage and had to tell me "you're in Austin!" So I'm actually excited to finally get to play Houston-now that we have such a history!

What are you excited about in playing here?
I love playing in the South. I draw on it for my songs and I connect with it. Playing live just brings me to live and makes me a better version of myself. I'm just a person with my own insecurities like everyone else and most of my life I've felt misunderstood, but being on stage is just the best medicine there is. I wouldn't give that up for anything.

For more information on the Diana's Country Dinner or to get tickets visit their website.
By Tammy Shaklee, Founder, He's For Me

Do yourself a favor and listen to this song as you read this blog entry.


You say you're ready for this. Ready to take the leap of faith into love. You want a compatible partner. A good man (or woman). And yes, let's be honest, one that you will be hot for not only now, but years down the road. And yet something always gets in your way. Don't worry, we've all been there. That's where a matchmaker can step in and help you see what perhaps you couldn't realize on your own. Take it from me.

When I was 35, frustrated still being single. I used to say to myself, "I'm a good person, I work hard, I play hard, I love animals and the elderly. I'm stable, trustworthy, and giving. Where is my person?!" That is when I knew, I needed to reach out for a professional hand to hold. To help me with my seemingly endless search.

I thought I was pretty open-minded and had an open heart (like most of our clientele think as well, in the beginning). To me, intellectual men were who I was attracted to most often. My entire life, I've worked for them, been taught by them, mentored by them, and tend to surround myself with them. Now I wanted to date them. Find me "uber smart" and we'll see if there's a connection. The next step was to realize what kind of match I would be for them. And believe me, there were days I thought I was a 10, and days I thought I was no more than a 5. But the reality? Seriously? An.....8.

As a certified matchmaker, we in the industry often provide our clients unlimited dating coaching. And our coaching educates every client, that he's really an 8, looking for another 8 to love him back. It's that simple, folks. Come on! No one is a 10. Everyone has his stuff. Each of us is flawed. The goal is to find the right person to love you for exactly who you are. And who you are not.

With the matchmaking process, we refine who we seek, and who will choose us back. A compatible match. (Height used to matter...until it didn't. Exact age used to matter....until it didn't.) Let's focus on the core qualities and values that make a great person. This week alone, we have dozens of men meeting quality bachelors, men they would have never met otherwise. And what do they all have in common? They are gay, seeking a long-term relationship, and have the qualities others are seeking.

I didn't want to walk alone. Through life. So my matchmaker held my hand....until they put me in the hands of the great man who became my husband. Reach out to your friends, family, colleagues, and let them know you are serious about finding your person. Just as you are. You're ready for this. There is no denying. I did it. You can too.

For more information on traditional introductions, courting, and dating for today's modern gay man, visit He's For Me, offline, personal matchmaking designed exclusively for select gay men seeking a long-term relationship - at www.H4M.com and like us on the H4Mmatchmaking Facebook Page for daily inspiration on finding love. #loveislove